Health Crisis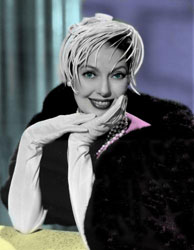 Filming for the second season of The Loretta Young Show began in June, 1954, as the show's reputation for style and elegance grew, so did its production budget. But then, so did its audience and its popularity. But at the same time, Loretta's migraine attacks also became more frequent.
By February, 1955, Loretta completed the shows second season. Her weight had slipped to a hundred pounds and her cigarette habit was now at four packs a day. Also, a rift between herself and Tom, her husband and executive producer, was widening. "Tom and I never argued at home about the show," Loretta said. "But it was affecting our personal life.
Reluctantly, one of them would have to leave the show. Tom eventually returned to New York and reentered the advertising business. But now, Loretta's hours would only lengthen, since she was not only the star, but also the executive producer of the show.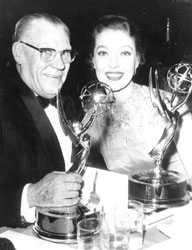 In March, 1955, Loretta received an Emmy Award for Best Actress in a Continuing Series, the first star ever to win both an Oscar and an Emmy. She would win other Emmys in '57 and '59, along with a Golden Mike; a Silver Globe, TV Guide's "Most Popular Female Personality", the Cannes Film Festival's Grand Prix, the first ever awarded to an American television show; and TV Mirror named her "Star of the Year" for six consecutive years.
In April of 1955, Loretta, Tom and their sons went to their home in Ojai for Easter week. On Easter Saturday, while shopping, Loretta doubled over in pain. By eight A.M. on Easter morning, she had been admitted to St. John's hospital in Oxnard.
For ten days she received antibiotics to cure what was assumed to be an infection, but extensive tests failed determine what was the cause of her pain. Doctors feared her hospital stay could be a lengthy one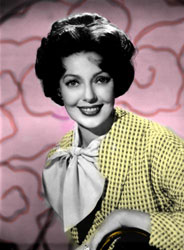 So, what about the show? Shooting for the third season was due to start within weeks. "We'll close it down," Tom announced to Norman Brokaw, Loretta's young agent, who had helped "package" the series at the William Morris Agency. "Loretta can't work anymore".
Norman Brokaw was not at all sure. He came up with what seemed like the perfect solution. He would ask Loretta's friends to fill in as guest hosts and actors until she was well again.
"Let's do it," Loretta told him. "But don't let anyone come through my special door until I can open it again!"
So, during the third season of The Loretta Young Show, many of Hollywood's biggest stars, Barbara Stanwyck, Rosalind Russell, Claudette Colbert, Irene Dunne, Ann Sothern, Merle Oberon, Joan Fontaine, Joseph Cotton, Van Johnson and, of course, brother-in-law Ricardo Montalban substituted for her.
The famous door did remain closed for 18 weeks, but finally, in October, the moment she'd hoped for arrived. When she walked triumphantly through her "special door" onto the set of The Loretta Young Show, the cast and crew cheered. "They were like family — so considerate and kind to me," she said.
Loretta even appeared in the last several episodes of the season. Her television life had been resurrected.
The Loretta Young Show ran for eight seasons on NBC, from 1953 until 1961. The New Loretta Young Show, which was called Christine's Children, followed a year later, and lasted one season on CBS.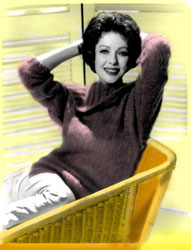 By now, Loretta had played an amazing range of characters; a Japanese wife, a Swedish servant complete with accent and braids similar to her Academy Award role, an Indian Maharani, nuns, a gangster's girl, a waitress.... And the mini-morality plays each week had touched just about every subject.
One of her favorites was "Forbidden Guests," about a career woman facing the end of her life, who is trying to tell her imaginary children why she never had them.
Another venture, "The Accused," dealt with the sale of pornography to minors, and Representative John Saylor of Pennsylvania read a congratulatory mention of the script into the Congressional Record.
Loretta had also hired many actors, known and unknown, who would go on to develop good careers, including Eddie Albert, Hume Cronyn, Barbara Hale, and Cloris Leachman. The show had proven to be an amazing vehicle.
But now, like life itself, the show's days were numbered.
Next: Life After Hollywood
Excerpts © copyright 2000 Joan Wester Anderson. All rights reserved.