Going it Alone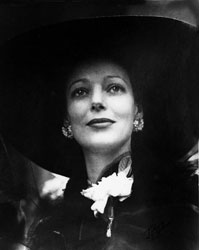 Even after almost three years away from television, Loretta had no inkling that her film career had virtually ended. "Offers still came in, but nothing worth getting up early for," she said. "Most were evil or weird characters".
She would ask her agent, Norman Brokaw, Why do you send these awful scripts to me? He would say, "You should see the stuff we don't send you" But, she knew, if she was meant to work again, God would send her the right script.
Fortunately, Loretta collected friends the way most people seek antiques or teddy bears, so while she waited for the "'right" script to come along, she delved into the world of business - and charity work.
Over the years she spent her time, energy and money writing an advice column for the Catholic News Service, designing and selling wedding gowns, and developing a cosmetic line for Schick Corporation. 
She also visited hospice patients at a Los Angeles VA hospital, cooked for homeless women on Skid Row, and started the Loretta Young Youth Project in Phoenix, Arizona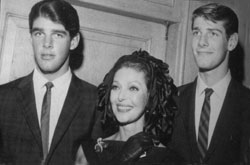 Along the way, she and Tom were divorced, her children grew up and pursued careers of their own, and her mother, Gladys, died.
Gladys had never stopped working as an interior decorator. In 1982, well into her nineties, she suffered a slight stroke. "It hardly slowed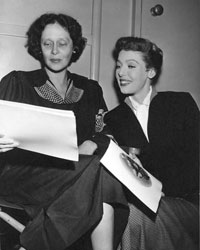 her down," Loretta recalled. "She finished her four final jobs on paper while she convalesced."
Gladys' second stroke was more serious, affecting her activity and memory. When she suffered a third stroke, she was taken to the hospital in a coma. Hollywood people turned out en masse for Gladys' funeral, many of them were clients who had become her friends.
For Loretta, she had lost her best friend.
Next: Welcome Back
Excerpts © copyright 2000 Joan Wester Anderson. All rights reserved.