Tom Lewis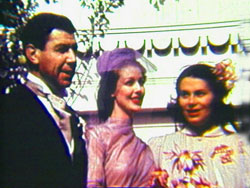 After "Bell" was finished, Loretta was ready for a break. During that break, Myron Selznick's assistant came to the Sunset House with a business associate. "There's someone here to see you." he announced.

Loretta went into the living room and met Tom Lewis, the head of the radio department of Young and Rubicam advertising agency. Tom produced and created popular radio shows, and was wondering if Loretta would accept a part in an upcoming program.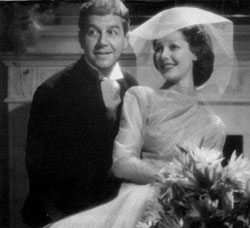 By now, Loretta had done several Lux radio programs, and guested on the Hallmark Hall of Fame. She liked radio, and she liked Tom too. She watched as his automobile wound down the driveway and out into the street. Selznick's assistant noted her interest. "What did you think of Mr. Lewis?" he asked.

"He's very attractive...." she murmured. "Should I ask him for lunch tomorrow?" the assistant persisted. "That might be nice," Loretta answered.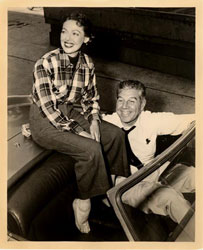 It might have been attraction at first sight, but Tom and Loretta didn't start dating immediately. Loretta was going out with James Stewart and was, of course, madly in love with him. She had been hoping Jimmy would ask her to marry him, but he never did.

"We just weren't on the same wave length," she said. "Jimmy got the woman who was right for him." He and his wife Gloria were married for over forty years, and remained good friends of Loretta's until their deaths.

Tom had a romantic interest too, actress Glenda Farrell. And he lived in New York, a continent away.

But he returned to Hollywood to direct Loretta's first Screen Guild radio appearance, which also starred Fred Astaire and Herbert Marshall.

Everything went fine until the Saturday night before the Sunday show. Tom called for a final rehearsal at 8 A.M. Sunday morning. Loretta sent word that she would not be there.

"She has to be there," Tom told her agent.

"She says it's impossible," the agent answered. "She has to go to Mass."

Tom laughed. "I have to go to Mass too. Tell her I'll pick her up at 6:30 A.M." He did, and Loretta couldn't help being impressed.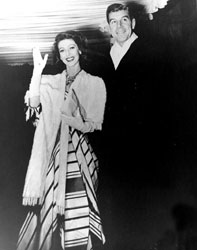 However, as they left church, Sister Marina, Loretta's first-grade teacher, bumped into them and eyed Tom. "Is he the Catholic husband I've been asking God to send you?" she demanded.

Tom was eligible, attractive, successful, twelve years older than she, and best of all, a practicing Catholic. What else could Loretta possibly want? After a reasonable time, she accepted his proposal to marry.

Then, in the winter of 1940, she broke their engagement. "I saw some warning signs," she said, "and I was hesitant about them."

"Her religious training seemed to have stressed the legalistic aspect — hell and purgatory," Tom once pointed out, "while mine concentrated on the Christian community, God's love and forgiveness."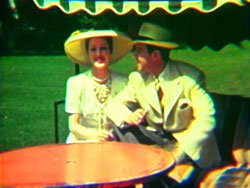 In spite of their hesitation, on July 31, 1940, Loretta married Tom Lewis in what was intended to be a small and intimate Mass at the chapel of St. Paul's Church in Westwood.

Her sister Georgie was her maid of honor, her brother Jack gave her away, she wore a lavender tulle gown designed by Irene — as thousands of fans unexpectedly showed up to clog the streets, sit on rooftops, wave, cheer, and wish her well.

The couple honeymooned in Mexico, where they assumed they would be unrecognized. Everywhere they went, however, people followed. Tom's reaction was less than enthusiastic, especially when fans shoved him aside - or worse, called him "Mr. Young."
Next: Breaking the Blacklist
Excerpts © copyright 2000 Joan Wester Anderson. All rights reserved.