Celia Kaye
actress, the New Loretta Young Show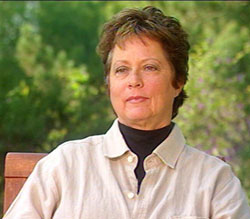 Working with Loretta Young was a very lucky first experience in show business for me.
She was absolutely amazing. I was in awe, first of all. Here was Loretta Young, I mean, we're talking movie star, not TV person, a major woman who you've admired forever. She was just so warm and so inclusive of everyone that my 'awestruck' situation went away immediately.
I remember when they were getting ready in the morning and people would be doing their various technical things - then all of a sudden this presence would appear on the set and you went "Whoa, now we're ready to go."
This woman walked in and it was her set. And it was her game, and her show, and it's like she had it all together and everybody just seemed to fall into place. She was in charge of everything without being harsh about it or bossy!
She knew everybody's name, from the catering men, to the lights, to the cameramen. She called them all by name - and included everybody in the project, yet you knew whose project it was.
It was a clean set. There was no smoking or throwing of cigarette butts or carrying on like on many other sets.
There was a container on the set, I don't remember if it was a jar or a box, but if you said a cuss word you deposited, I don't know, maybe a dollar in those days, and you were forgiven for your word and I'm sure she had a good cause for the money in that box, but I'm not sure what it was.
That was the first time I'd seen one of those. I don't think I made any deposits in it. At 19, I don't think I knew any of those words yet, but I learned them pretty quickly later in this business.
For me, as a female, Loretta Young was wonderful to see. She was way ahead of her time as far as the take-charge woman who was in charge not only in front of the camera, but behind it as well.
She probably didn't get the kudos she deserved for being the early one. But it was wonderful. She was always very gracious. It was relaxing for me to see a strong person in charge, because I sure didn't know what I was doing.
That, to me, was wonderful to watch.