The War Years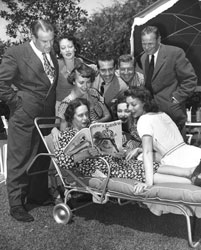 In late 1941, Loretta and Tom went on a second honeymoon to Hawaii. Rear Admiral Isaac C. Kidd was a fan of Loretta's and happily volunteered to show the couple around his command battleship, the USS Arizona. Two months later, he and 1,176 other crewmen died when the Arizona sank during the bombing of Pearl Harbor.

The Second World War had begun.

Hollywood was as affected by the war as any other community. Movie-makers switched focus, scripts began to concentrate on military matters, and actors and executives did what they could for the war effort.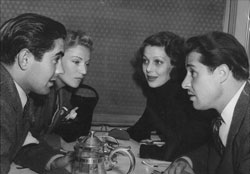 Tom enlisted in the Army, and because of his experience in radio was asked to create the Armed Forces Radio Service, to entertain soldiers and keep their morale high. He began with the rank of major, proceeded to colonel, and had his headquarters in Hollywood, and another office in Washington D.C.

Since Loretta didn't sing or dance or tell jokes, she couldn't actually "entertain" troops, so she took part in patriotic radio programs, went on a bond-selling tours, and visited hospitals and induction centers, talking to servicemen. "The only thing I asked was to please let me go alone, except for a nurse to show me the way," she said. "If a colonel accompanied me, it only made the soldiers ill at ease."

On one occasion, a B-26 Marauder gunner, Clarence (Cy) Cyford, spotted Loretta while on a visit to his air base. On the spare of the moment he asked her to autograph the nose of his plane. At his insistence, she stood on an empty ammunition crate and wrote her name in chalk, promising to pray for each crew flying the plane. A painter later traced her signature, to keep it permanent.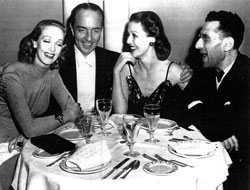 In May, 1944, after several missions, the "Loretta Young" lost an engine on takeoff and had to make an emergency landing with a full bomb load. At touchdown, the pilot blew both tires, collapsed the nose wheel, and finally skidded to a halt off the end of the runway.

It was the "Loretta Young's" last mission. Damaged beyond repair, the plane was taken off to the scrap yard. But her namesake must have been doing some special praying that day, because each member of the crew walked away from the crash unharmed.

In addition to her war work, Loretta continued to make two movies a year, earning $100,000 per picture.
Next: The Family Grows
Excerpts © copyright 2000 Joan Wester Anderson. All rights reserved