The Family Grows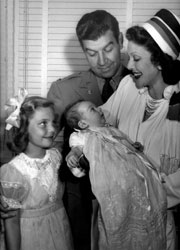 In 1944, Loretta was delighted to learn she was, at last, pregnant. The baby would be born in August, and she was thrilled that she had just signed her best studio contract ever, a seven-year, seven-figure deal with International Pictures.
Better yet, the studio was headed by Bill Goetz, whom she had known and loved since her early teens.
Loretta had finished her first and second movies for Bill, and with the baby's birth approaching, it was time to look for a larger house. Tom and Loretta went house hunting.
Actress Constance Bennett's home on Carolwood Drive in tony Holmby Hills was available — forty-five rooms, down the street from Walt Disney's mansion — it was just what Tom had in mind.
At a family gathering there on July 31, 1944, Loretta's long labor began, and she gave birth to Christopher Paul at six the following morning at Queen of Angels hospital. A son! Tom was as thrilled as she was.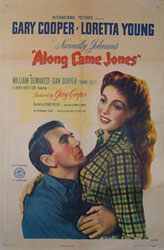 Within months, Loretta was caring for the new baby, had made Along Came Jones with Alan Ladd, and was planning to star in a movie about Elizabeth Blackwell, the first American female physician, when she realized that she was pregnant again.
Surely she could do the film? But her doctor disagreed. Loretta was farther along than she had thought — about four months — and she would have to bow out of the Blackwell movie.
Loretta called Bill Goetz. "I hope you're not too disappointed?"
"Don't worry about it," he assured her. "We'll cancel the picture."
But a few days later Loretta's new agent, Bert Allenberg, phoned. "The chairman of the studio wants a meeting with you," he told Loretta. It sounded ominous.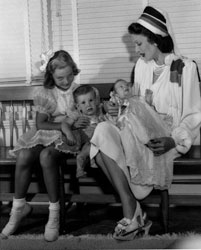 The chairman got right to the point. "Loretta, you recently held us up on Along Came Jones, and now you're canceling "Blackwell" due to another pregnancy. It appears you're far more interested in having a family than a career."
"Actually, I'm trying to have both." she began, but he cut her off.
"Unless you skip this baby, and go ahead with the Blackwell picture, we'll have no choice but to cancel your contract. It's up to you." 
The next day Bert phoned. "Loretta, they did it. They canceled your contract. And you won't believe this...." "There's more?" she asked. "It seems they've already overpaid you $50,000, and they're expecting you to return it."
Life was now on hold, Loretta realized, as she waited for the birth of her third child. They could live for awhile on savings, but for the next five months she would have to sit squarely in the palm of God's hand. There was no place else to go.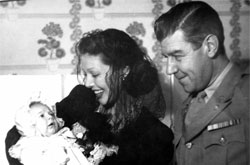 On July 14, 1945, when she was eight months pregnant, Loretta and Tom were leaving for a dinner party at Claudette Colbert's house. As Loretta came downstairs, wearing a dazzling maternity gown, she felt strange. "I think my water just broke," she said.
"Well, it could be hours yet. I suppose we can go to the hospital just as easily from Claudette's as from here...."
Claudette's party was great fun, and Loretta didn't leave until 2 A.M. "In those days, if anyone left before 1:30, the party was considered a disaster." she recalled.
But as she and Tom were getting ready for bed, she felt a pain. "I think it's time to call the doctor, Tom," she said. The baby, Peter Charles, was born less than two hours later.
"Some reporter once asked me what was the happiest day of my life, and I said it was that day," Loretta recalled. "I don't know why it stands out in my mind. Maybe because on that day I had done the most normal and marvelous thing in the world."
Peter was an especially cherished baby too, as she had laid her principles on the line for him. She faced down the kingpins at International Pictures, and whatever the future held, her decision had been the right one.
Despite her hopes for many more, Peter was the last baby Loretta would have.
Next: The War Ends
Excerpts © copyright 2000 Joan Wester Anderson. All rights reserved.