Judy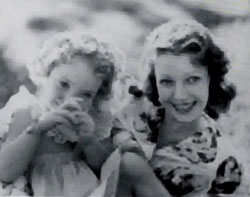 The past months, however, had all been an elaborate fabrication. Loretta was actually facing one of the toughest situations any unmarried girl could, especially given the moral climate of the time.

It had begun in January, when she met Clark Gable. She had been wildly infatuated with him — even more "in love" than she usually was. That is obvious by looking at their love scenes in the movie.

Clark returned her interest. The fact that he had been baptized a Catholic, despite his current illicit marriage, attracted her too. However, as always, Loretta tried to maintain her moral principles. There had been no affair, as gossip mongers would assume. Only one night when her will slipped, simply a casual event.

But shortly after starting work on The Crusades, Loretta realized she was expecting a child. What was she to do?

"In those days, unmarried pregnant women were sometimes thrown out of their homes in disgrace," Loretta said. "But Mama was not angry, the way she had been when I married Grant. She comforted me"

Loretta spent her pregnancy incognito, most of it at a nearby house that her mother owned. It was a lonely, heartbreaking time. Her optimism and sense of fun faded, and according to one sister, she grew uncommunicative, keeping her feelings to herself.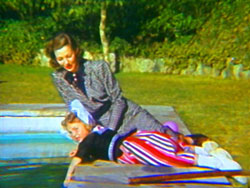 On November 6, 1935, Loretta gave birth to a baby girl, whom she named Judy. In another country, Clark received an unsigned telegram, stating only that the baby had arrived safely, and she was blonde and beautiful.

Judy would be cared for at the house by a nurse for a few months, so Loretta could visit and feed her on her way to and from the studio. The baby would then spend the next year or so in a foundling home, until she could join the Young household in a casual way.
View tribute to Judy.
Next: On Suspension
Excerpts © copyright 2000 Joan Wester Anderson. All rights reserved.