Call of the Wild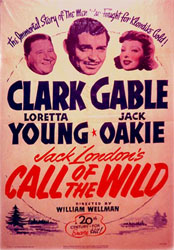 It was Hollywood's "Golden Age," and Loretta's schedule of films for Twentieth Century, for whom she was now under contract, was formidable. She pushed herself to pick her projects carefully, play every scene perfectly, and promote her career in every way possible.

It is estimated that she posed for over 125,000 publicity photographs in her lifetime.

By early 1935, she was eagerly looking forward to a short rest, planning to accompany her family on a long-awaited vacation to Europe. But, before the year was a month old, her studio boss, Daryll Zanuck, called to tell her the trip would have to be postponed. He had committed her to star in Call of the Wild, opposite Clark Gable.

The picture, adapted from Jack London's classic novel, had to be filmed outdoors, but because of weather that could strand a movie company for weeks, location pictures were rare in Hollywood.

Although Clark and Loretta had never met, she certainly knew about him... and that many of his leading ladies - in spite of the fact that he was married to his second wife, some seventeen years his senior - were known to fall in love with him.

Clark and Loretta first met on the train going up to Bellingham, Washington, for their expected ten-day location filming. Initially, the making of the picture consumed most of her attention and energy, but then strong winter storms began to move over the location site. There were more then one hundred people in the cast and crew, and the snow became so high, the wind so fierce, that everyone spent most of the time shoveling.

If there was a romance blossoming between Clark and Loretta, as some members of the crew believed, it seemed just a way of passing the time. "We were living in summer quarters because the main winter lodge had burned down earlier," Loretta said. "Not enough heat, not enough rooms, no recreation areas.... in the freezing cold."

Ten days stretched into weeks, and finally everyone gave up, came home, and finished shooting on the back lot of the studio. Director William Wellman reportedly was not happy with Clark on the Call of the Wild location. His star, he said, was unprepared for takes and "tending not to business but monkey business."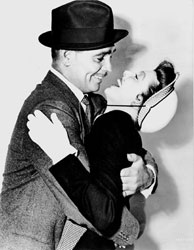 Soon after the picture was finished, Gable left his second wife and moved into a hotel. He and Loretta were not seen together on the party circuit, and the gossip about their torrid love affair on location in stormy Washington died down.
Loretta immediately reported to Paramount Studios for The Crusades, a religious film directed by the legendary Cecil B. DeMille. Known as "the master of spectacles" because of his visually stunning extravaganzas, DeMille too was larger than life, although he was short and bald

Loretta didn't like the movie, but admired DeMille. "A Crusade was not a holy war," she said. "It was a terrible war, just like every other war."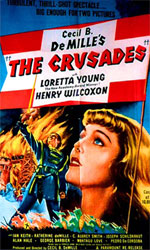 But she found humor on the movie set. "One day, two girl extras were hanging around outside my dressing room. It was hot, but DeMille kept working. Eventually, one of them muttered to the other, 'I wonder when that old baldheaded son-of-a-bitch is going to call lunch."'

Suddenly, over the loudspeaker came DeMille's voice. "WILL THE YOUNG LADY SITTING OUTSIDE MISS YOUNG'S DRESSING ROOM STAND UP AND REPEAT THE REMARK SHE JUST MADE?"

Trembling, the girl stood. "I - I wonder when that old baldheaded s-son . . . ah . . . is going to call lunch...." There was a long, hushed pause. Then, "LUNCH! BACK IN AN HOUR!" DeMille bellowed. He never mentioned the episode again.

When The Crusades was finished, it seemed like an opportune time for Loretta and Gladys to sneak in their European trip. They went to England and attended a royal luncheon for the King of Spain. They visited Wimbledon and went on to Paris where actor Charles Boyer showed them around. Reporters followed them everywhere, and word floated back to America that Loretta was enjoying a well-earned rest.

But, immediately upon arriving home in August, she went to bed on what was explained as "doctor's orders." She was not to be disturbed. Her next scheduled film, Ramona — Twentieth Century's first western to be shot in color — was postponed.

Rumors began to fly: Had she been in an accident in Europe, left disfigured? Was it a terminal illness? Was she penniless, mentally ill?

On October 8, 1935, her sister Sally and director Norman Foster were married in a private ceremony at the "Sunset House." Loretta was still closeted in her upstairs bedroom, but her door was open so she could hear the music drifting from below.

In late November, she finally reported for work on the set of Ramona. She looked her usual radiant, size six self, and ready for a role requiring dancing and filming on location. "No one, press or otherwise, ever confronted me directly about my absence," she said, "not until at least fifty years later."
Next: Judy 
Excerpts © copyright 2000 Joan Wester Anderson. All rights reserved.